E-commerce is taking over the business world as online servicesare becoming a key pillar in this global pandemic.We are not only dealing with a crisis for our health but also a financial crisis world wide. Even before the pandemic online shopping had grown expeditiously. Nowadays it is simple to start a business with little to no capital, and all the credit goes to e-commerce. E-commerce is welcoming everyone with entrepreneur skills with open arms to start a new business. Customers are completely relying on online shopping and it is predicted by 2044, at least 95% of purchase will be made online.
In 2017 the e-commerce produced sales of $2.3 trillion, and it is estimated that by 2021, sales will almost likely double the previous amount which was $4.5 trillion. In the United States alone online shopping increased 10% and it is predicted to be closer to 15% by year end.
Present Situation
The World Trade organization (WTO) is asking their members if they need new or more practical e-commerce solutions. If done correctly it will open doors for jobs, it will move products, supplies and services across all borders faster, safer which will be more economical.
Online search historyis showing us real patterns on the role e-commerce is playing right now in this pandemic. Examples of those searches are "food delivery, online shopping, online doctors, and online classes" E-commerce solutions will be a main provider for jobs, as many restaurants have had to close unless they use an online delivery system. People are changing their everyday lifestyle to even more online presents from ordering products, grocery shopping, teaching students through video chat, even doctors are seeing patients via video chat when possible . In recent cases e-commerce is creating new economic opportunities.
E-commerce will provide support to small businesses making them more competitive not only domestically but internationally.
Getting more information from E-commerce poll
Generation Z (millennial, age range 22-38, born in between 1981-1996) and Generation X (Generation Xers, Age range 39-53, born in between 1965-1980). Millennial are the highest online shoppers, at 67% and Generation X isn't far behind at 56%. These generations love to shop online and it shows they spend 50% more time online than the previous generations. When it comes to shopping online men spend 28% more time than women.
Shopping behaviour
Current E-commerce shopper's statistics show 43% of online shoppers shop while they are in bed, 23% shop while they are at office, and 20% while they are at washroom or in the car. Also interesting to note, is 10% of ecommerce customers are reported to make purchases while they are intoxicated; 14% of men are most likely to purchase in this condition, while 6% are reported in women. These statistics reflect 42% of shoppers have regretted their purchase, while 21% have purchases they didn't want. In most cases 48% online buyers have bought some product unplanned or overspent. 85% buyers start one purchase in one device and complete it in another.
Market of E-commerce
Here we show a breakdown of the top ten e-commerces markets . China$672 billion, USA ($340 billion), UK ($99 Billion), Japan ($79 Billion), Germany ($73 Billion), France ($43 Billion), South Korea ($37 Billion), Canada ($30 Billion), Russia ($20 Billion), and Brazil ($19 Billion).
Top countries for selected durable and consumable categories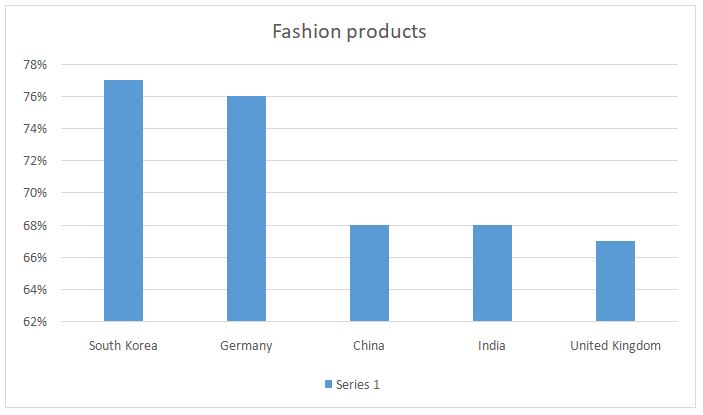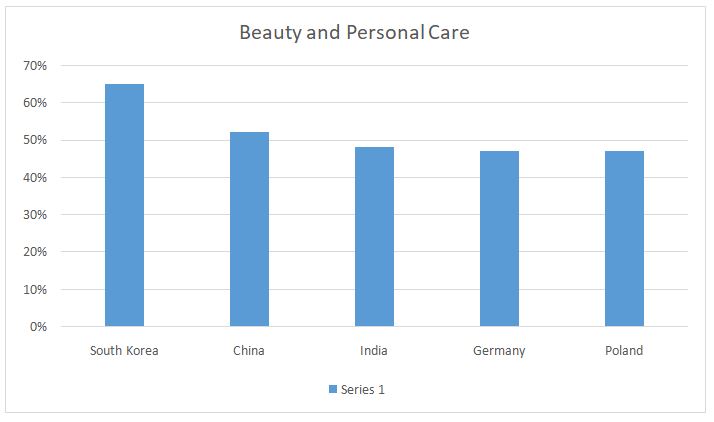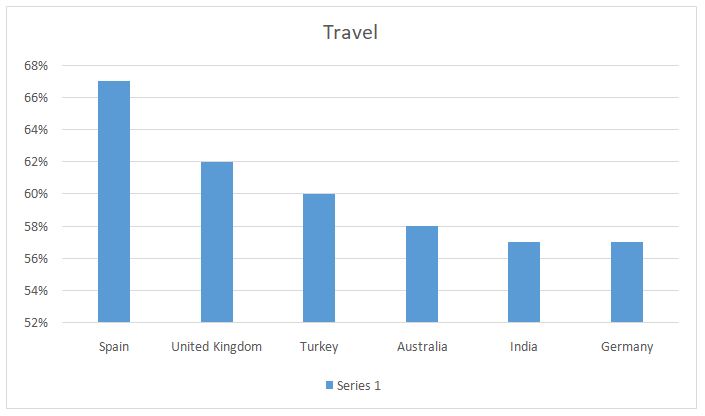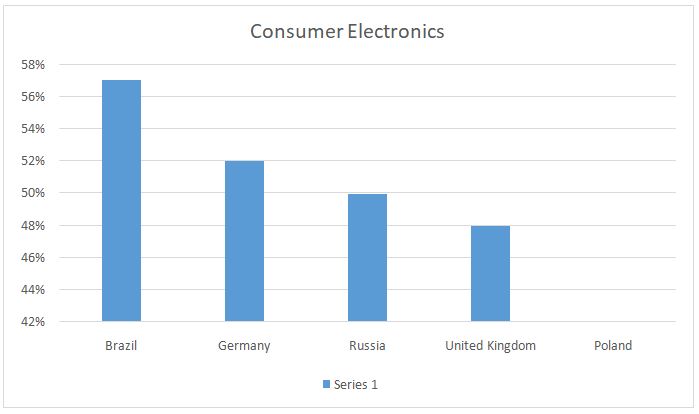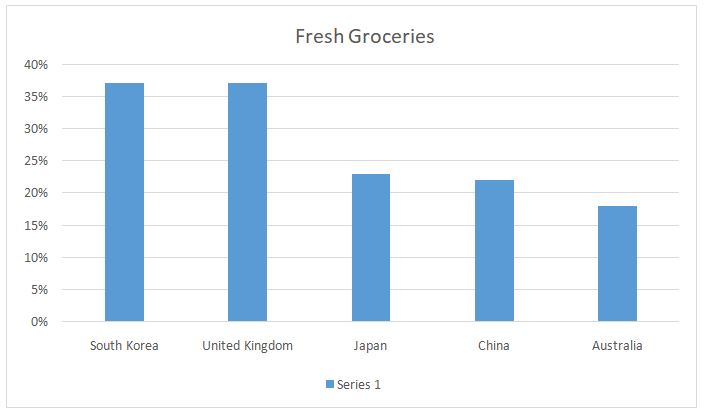 The eastern market is expected to rise in B2B e-commerce global sales by the end of 2020. It's showing that the United States will be down 4% from a global share of 20% in 2015. E-commerce has helped boost the global market by as much as 57%. The online buyers are buying products from overseas retailers, and using credit cards as the preferred payment method. Credit cards are used in 53% of all transactions, where debit cards are 38%. In western Europe and China digi payments systems are preferred, and in Eastern Europe, Africa and the Middle East COD (Cash on delivery) is still preferable.
96% of Americans have made at least one purchase online in their lifetime. Americans spend 64% of their purchase in physical stores and 36% online. Amazon had 44% of ecommerce sales in 2017. The most shocking fact is 46% American businesses don't have websites.
Business to customer
Business to customer transactions are conducted online, and it not only refers to products but also paid services. Amazon is a great example of B2C, first it was a retailer, then it started Amazon Prime, Amazon Cloud storage services, paid promotions etc. China has the largest Business to Customer market.
Business to business
Business to business means selling, marketing and distribution of a product from one online business to another. These also include software services, application making services etc. For example most American B2B companies have their whole product line online. In 2017 it was expected that B2B would generate $7.6 trillion, while business to customers will generate $2.4 trillion. furthermore, prediction that e-commerce sales will be $12 trillion globally by 2020. China and the US will be leading the global market and businesses will spend more on ecommerce technology than online retailers.
Customer Experience and Customer Service
Customer Experience is one of the most important things for keeping a long relationship with your customers, and one happy customer can bring more customers. To have a good relationship with customers you must maintain great customer service, UX (user experience), prices and offers available to your customers keep them happy. Last but not least, how you deliver the product and shipping charges will make or break a sale with the customer. 64 % of customers believe the overall experience is the most important part of returning customers.
In America at least an average of 15 people talk about bad customer service, and only 11 people tell about the good one. We all know, bad news comes to the surface faster than the good news. An average of 33% of customers switch companies after they face poor staff behaviour. Companies in the United States are losing an average of $62 billion annually due to bad customer service. Studies show that if customer service departments improve they will increase sales of $823 million over 3 years based on companies that do at least $1 billion annual revenue a year.. The best way to give a great customer service experience is by making the process easy from start to finish. Next if there is a problem showing in the return policy 80% of people get discouraged and stop buying at said company or 74% will switch brands, if they are having problems when purchasing or returning items.
User Experience
The user experience has a lot of boxes to be checked such as page loading time, website design, system design and product. In the case of loading time if it's longer than 3 seconds 57% of customers will leave your website. This also pertains if people can't even find what they are looking for, they will leave your site. So your website must be clean and products or services you are offering should be easy to find.
Reviews
Rather than just putting the product description if you also put how it works, how to use it or how it worked for other customers? You are more likely to make a sale. It's predicted that if one customer watches video about a product or service 73% of them are more likely to actually buy it. Other research suggests 46% of customers want comparisons between products in e-commerce websites, 42% want reviews of previous customers. 77% buyers read product reviews before they buy any product.
Mobile devices are always on the top of the list, as people spend 44% of internet retails minutes through their smartphone, 11% on a tablet and 45% on a desktop. Buying products from a smartphone is getting easier with the help of mobile wallets like Apple Pay, G-pay etc. Conversation rates through smartphone purchases are 10% higher than last year. It also has been seen that small retailers have 30% higher mobile conversion rate compared to large retailers. 52% of people agree that if they are having any kind of bad experience purchasing from their smartphone, they won't likely go with that brand again.
Social Media
We often check the Facebook Marketplace or Instagram's swipe up option, forinformation on where you can buy products seen on social media.This is called Social shopping, some brands create their page and list their products only through Social shopping. 74% of people completely lean on their social media platform for purchasing decisions, 56% follow their favorite brands on social media tolearn what's new. In South Asia, social shopping brings 30% of all online purchases. Almost every brand is targeting their consumers from social media, because that pays off. Many mobile shoppers read the reviews from social media, and the conversation rate from there is up to 133%, worldwide.
Cart abandonment
Alle-commerce stores have shopping carts where you can add your products for future purchases, but people abandoned 70% of shopping carts as well.For every three successful purchases, there are seven products which end up abandoned in the cart, which results in the loss of $18 billion in revenue every year. 60% abandone the cart due to the shipping cost. Asolution: shipping through regular mail to reduce the rate or showing the advertisement for that product could be more than helpful. The shopping cart abandonment is growing every day as it was 59.8% in 2006, grew to 69.23% by 2017.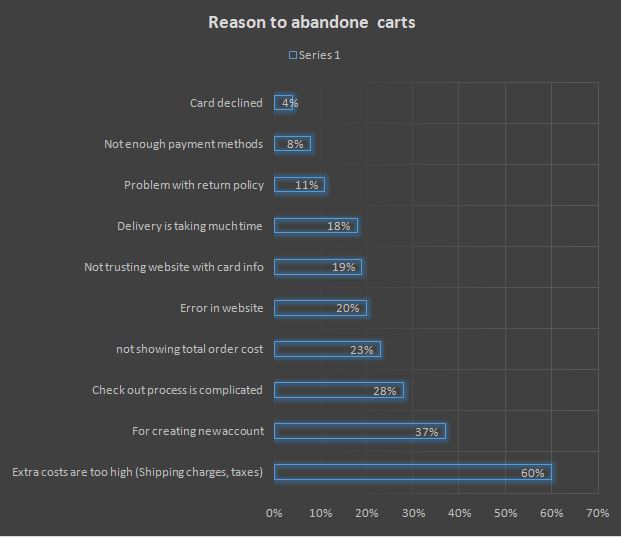 Governments can help during the crisis through e-commerce. People are facing lockdowns so buying from in store shopping is not an option. With all the precautions taken e-commerce can help a lot during this time, as people are able to order their everyday goods online, and the contactless deliveries will help stop the spreadof the infection. Physical stores need to change their core concept. Big stores from America to China understand the need of adapting the e-commerce solution to sustain their company and continue to grow during these hard times. In Slovenia, small retail stores are struggling a lot as they have to compete with shopping malls which have a lot to offer, so the older and smaller shops are already struggling. But retailers who have both online and offline presence are in a great situation, they are not facing as much of a struggle to move their complete business online.
In the coming years, online stores will deal with everything while brands will build brick and mortar stores to build the brand image. The most important thing about online stores is that retailers don't need to buy or rent a storefront to impress their customers, it will still work from a warehouse. The two concepts will be popular, one is stores will become showroom while many retailers will look forward to "pop up stores".
Italy has made a website listing completely free, for online service providers during this crisis. We all know how internet usage has increasedover time, and visiting a store causes social distancing to be too hard and possibly not safe.The online payment sector is stronger than ever as more people are using online payment methods rather than COD. The government needs to help consumers spread the words about how to stay safe while doing online shopping. Unfortunately online scams are increasing, not only with money theft but identity and data theft. According to a recent survey 31% of adults worldwide don't have a financial account.
With the understanding of the current market, businesses need to shift to an online dominant presence, as it is not a luxury anymore, from service providers to retailers, everyone needs to be on the platform, and their presence must be great, as the competition will be high, but if they remember the customer safety, customer experience, offers, and prices it can be a major hit for e-commerce business.