Game development takes time, effort, and resources. And on the initial stages, game developers often invest quite a lot of them. However, they still have to make money out of their great ideas.
Making money from games is called game monetization.
The total video game market revenue worldwide is projected to reach USD 203,1 billion by the end of 2022. Smartphone games are expected to generate approximately 91.4 billion U.S. dollars, accounting for 45% of the global gaming market during the measured period. (Statista,2022)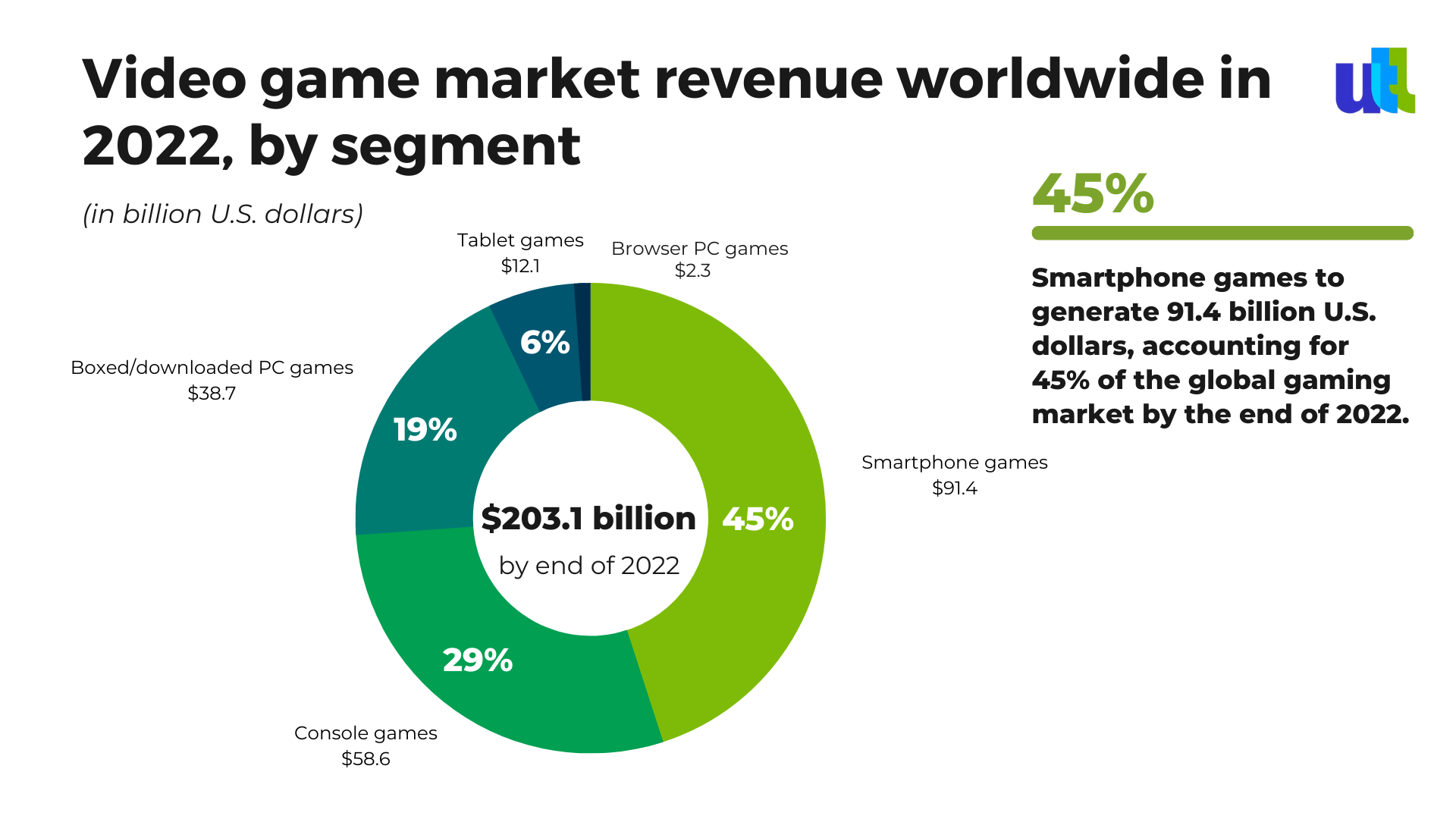 While some games become very profitable as soon as they get launched, for others, it takes years until they finally blossom. On the other hand, some games fail instantly.
All this depends on the quality of the mobile game but also on how developers handle their monetization from scratch.
The technology is mature enough; now it's just about choosing the right approach.
In this article, we will speak about the 3 most beneficial game monetization strategies: in-App purchases, Partnerships, and Video monetization.
In-app purchases
According to Mihovil Grguric (2022), about 79% of mobile games are monetized with in-app purchases.
They are part of what is referred to in the gaming sector as the freemium gaming model (a term that entails a combination of the words 'free' and 'premium'). The freemium game economy works in the following way: gamers do not have to pay for the game; still, if they want a better experience and more features unlocked, they can subscribe to the premium version through in-app purchases.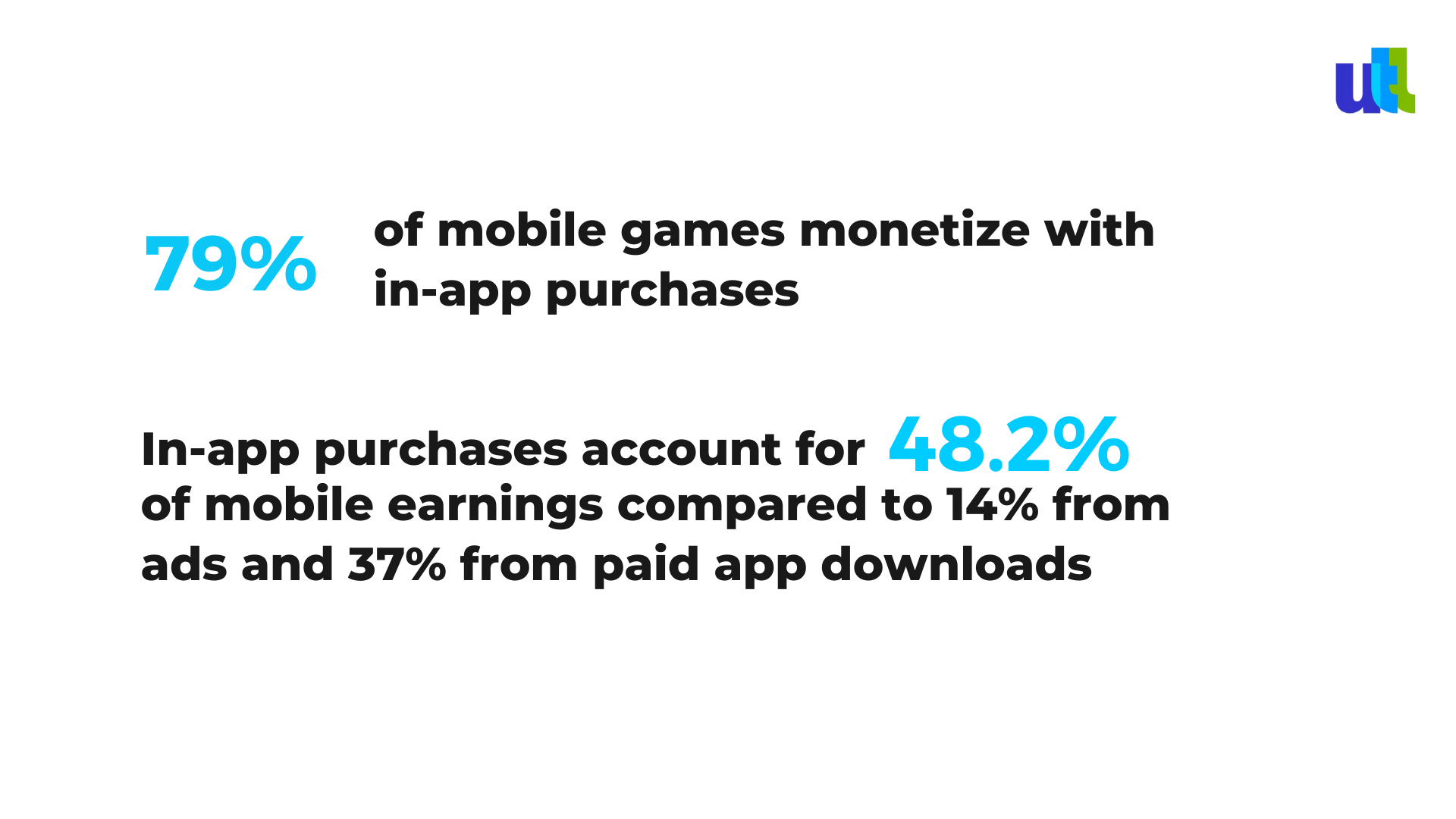 This way, players pay to get additional coins, weapons, moves, boosters, and more, while also get access to other unique tools that improve their overall gaming experience. The main thing you need to think about here is – what do my players need and crave most?
Compared to other monetization strategies, in-app purchases account for 48.2% of mobile earnings compared to 14% from ads and 37% from paid app downloads (Tafradzhiyski, 2022).
Statista projects in-game purchases to account for more than USD 74 million globally in 2025.
This is a great potential, isn't it?
Partnerships
Another important monetization strategy that helps progress in market expansion and growth. According to the 2022 Unity Technologies report, due to many issues regarding changing regulations, industry growth, return on investments, and setting proper objectives for the studio, developers choose to partner with other firms that have more experience and resources to push their game to success.
One of the biggest partnerships in modern society is Electronic Art's acquisition of Glu Mobile for USD 2.1 billion. Also, there is Boyd Gaming, known for its 28 gaming properties in 10 states, that will utilize Aristocrat technology to connect Boyd Pay to their mobile application (FN Media Group, 2021).
Partnerships occur in different forms, such as affiliate marketing, sponsorships, co-branding, link-building, and widget marketing.
Another excellent example of such partnership success was Borderlands partnering with scientists to create Borderlands Science that became a massive hit with over 700000 players solving 36 million puzzles in just a few months after launch.
Partnerships propel the success of a game since they assist developers in tapping into a broader market share while also making them prepared for the challenges ahead.
In-game advertising
Advertising is a common revenue source for video game publishers. The revenue comes from third parties who pay video game publishers to advertise their products and services within their games. This monetization model is mostly used in mobile games and free-to-play games.
There are three sides involved in the ad-serving process:
players
publishers
advertisers
Players are okay with this monetization model because it helps them get free gameplay. Developers display as many ads as possible and make money, while advertisers are happy to show their ads to potential users.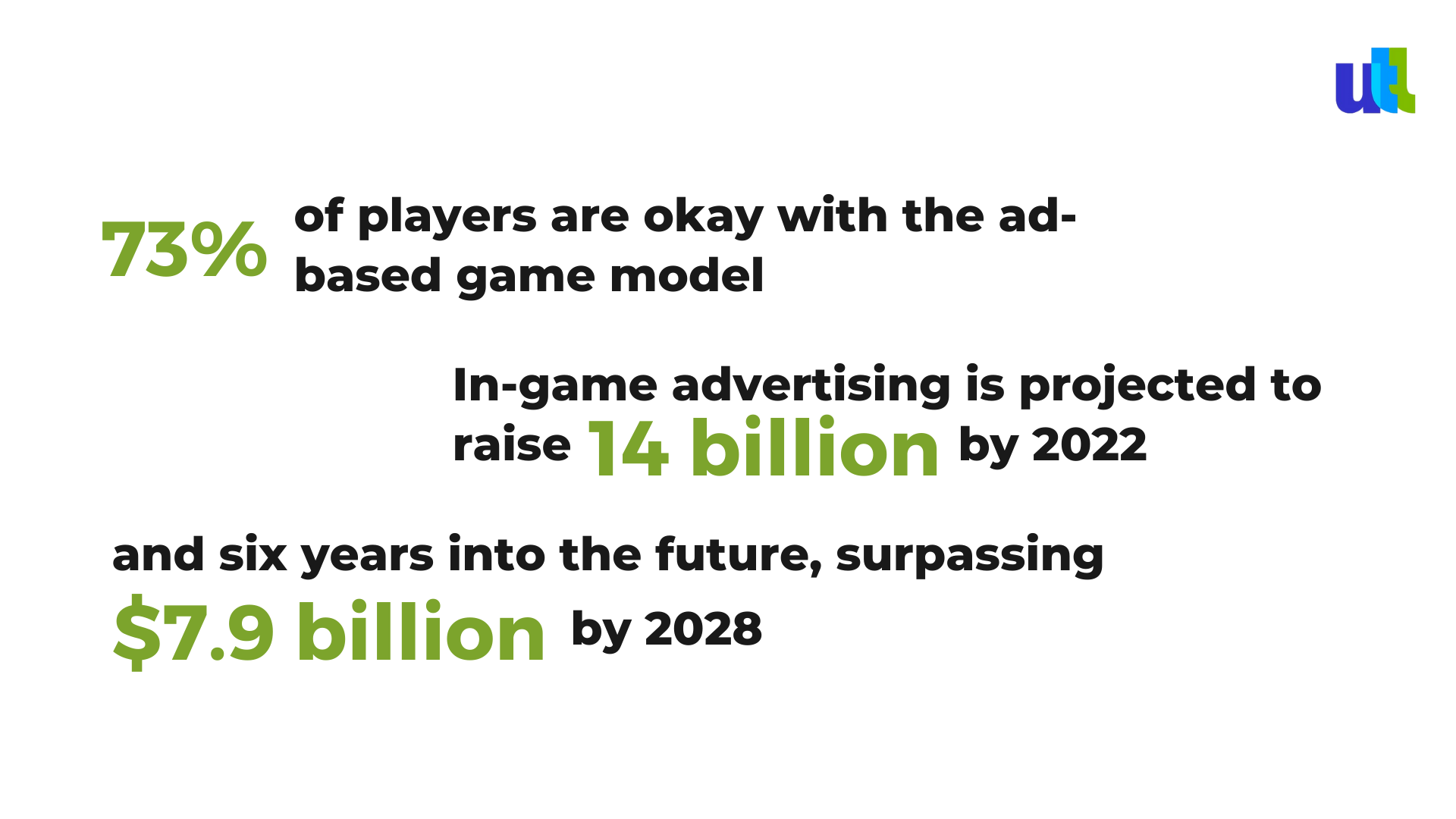 However, ad monetization is something you need to be very careful about. The thing is that most players don't really like ads; they simply tolerate them.
Rebecca Sentance (2022) predicts that in-game advertising is projected to raise $14 billion by 2022, up from $6 billion in 2020.
Video ads are getting more and more popular, especially in the form of a pre-roll — they are shown at the beginning of a game while it's still loading.
Rewarded video ads
Rewarded video ads are an opt-in ad format. Unlike other popping up ads, players aren't obliged to watch them. Instead, they voluntarily choose to do so.
Why?
They get a reward in return. For example, in-game items, currency, weapons, points, etc.
And yes, rewarded video ads also take over the users' whole screens and some seconds.
The eCPM range for this ad format is from $10 to $50, which is one of the best among ad formats.
Rewarded video ads are the most popular ad format chosen by game developers – 82% of developers use them (DeltaDNA).
The users click on the ads; the ad companies get impressions which they monitor and pay the developers according to the number of impressions that came from their games. Based on an article by Game Marketing Genie (2022), 73% of players are okay with the ad-based game model, hence its popularity among developers.
Similar results were published by Eskimi (2022); he states that 72% of mobile gamers willingly engage with rewarded in-app ads, while 64% prefer rewarded ads over sponsored social media posts.
Therefore, in-game ads are a compelling strategy for monetizing games on both PC and mobile platforms.
Wrapping up
Hopefully, you now have a better idea of how to successfully monetize your mobile game in 2022.
Monetization is a critical aspect to consider before launching a gaming app. Game developers should think beyond, "How much money can my mobile/PC game generate?", since with the right monetization methods they can deliver even a better gaming experience for their players. Ultimately, if a monetization method enhances the overall user experience, revenue streams will benefit.
For more of mobile game development & monetization.
----------------------------------------------------------------------------------------------
View the full presentation: